But Do I Need Lube?
I'm going to tell you a secret, lube is the easiest, simplest, and most cost effective way to change up the sex your having. I recommend using it for solo play, partner play, and play in the water. Lube disperses vibrations differently, so it can even affect the way your vibrator feels! It can take hand or mouth sex to a new level by keeping things super slippery or adding a warming element or even a flavor. Read more about why wetter is better here!
Why This Brand?!
I always thought lube wasn't for me because it either gave me a yeast infection or burned. A lot of brands have problematic ingredients. Glycerin is a sugar and in the body of folks with vaginas it can give you a yeast infection. Also the sugar can caused micro-tears in front or back holes opening you up to infections. If you've ever had a lube burn like I have then it's probably the glycol in it. If you have sensitive skin avoid this ingredient on your most sensitive parts! This brand is made in America (if you're into that kind of thing), vegan, with natural ingredients. Even the packing is 100% recyclable. One of the amazing ethics of Sliquid is that they don't test on animals at all, so they're also cruelty free. The best part is the different options, so there is literally a formula for everyone. 
Why are there so many options?!
There are 13 different personal lubricant products in the Sliquid Naturals line, which means there is (at least) one for everyone! Sliquid H2O is the simplest, purest water based personal lubricant in the line, and is the core formulation for all of our other water based lubricants, with only 5 ingredients. The Naturals Collection of personal lubricants from Sliquid is designed to be simple, safe, and sexy. What more could you want?
Sliquid's entire brand is glycerin, glycol, and paraben free. This makes it ideal for not only folks with vulvas because it doesn't contain irritants and is PH balanced, it is also great for folks with sensitive skin. For years I thought I could never use lube because it either burned or gave me a yeast infection from the sugar in it. This was the brand that not only changed my outlook on lube, but enriched my life by cutting out all the friction I dealt with for years.
On to my favorite lubes!
H20
The base for the rest of their line, this lube is what I like to refer to as a gateway drug to the best lubes of your life. Glycerin and paraben free, this flavorless non-staining lubricant will have you wondering how you ever used other brands. Compatible with toys, condoms, and sensitive bodies. This is their most basic formula, so if you've tried other lubes and liked the texture this is the one you should switch to. Just a good standard classic lubricant. This is also the one I recommend the most if you are sensitive to most ingredients, it has the least added ingredients of a lubrication.
Sassy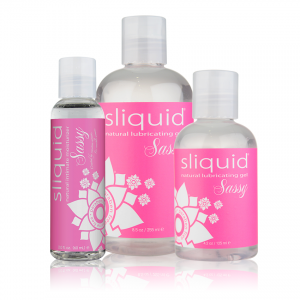 Sassy is  their thicker water-based lubricant that was specifically formulated for back door fun. This gel is thick enough to properly coat sensitive areas. This is great for any type of play or you're simply looking for a thicker formula. I will say, that they use more citric acid in this formula and if you're super sensitive like me it can be a little irritating. Most folks I've talked to haven't had any issues but be aware. Thicker formulas are great for specifically toys with a lot of texture, or back door play because the lube adds a cushion to the experience which tends to make things more comfortable.
Sea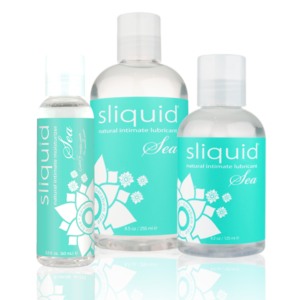 This water-based formula contains seaweed extracts, to promote and emulate your body's natural lubrication. Infused with carageenan, which has been shown to reduce the transmission of HPV (google it, it's pretty neat. I am however not a doctor so take this with a grain of salt), Sliquid Sea is odorless, tasteless, PH balanced and paraben free. This was my favorite formula until I found Satin because this one feels the most natural out of anything I've ever used. If you're looking for a natural feeling formula that just enhances your natural wetness this is the one for you. This is also great for folks who like the friction that toys or even body to body can have. This cuts down on friction just enough, but still lets you feel everything.
Satin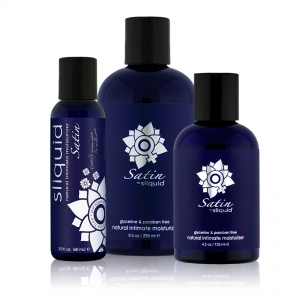 This water-based  formula was designed to be an intimate moisturizer that can be used as a daily moisturizer as well. With infusions of aloe, Vitamin E and carrageenan, this lube can be used both as a lubricant and to treat dryness due to any number of reasons. Smooth and long lasting, Satin is my favorite formula because it is a little thicker and puts a nice cushion for penetrative toy use. Also there's no downside to moisturizing while you're playing! This is my current go to because of the pills I'm taking. They tend to dry me out and this helps me stay moisturized. 
Sizzle
This water-based lubricant is designed to deliver a warming sensation that won't leave you burning. Formulated with food grade menthol, sizzle goes on cool, and warms with friction. I don't like warming products after a bad experience with an ex, but this is the one formula I don't hate because it doesn't burn. It just gets pleasantly warm. You always want to make sure you look at the ingredients and figure out what in the formula is warming, if it doesn't tell you then I would avoid it. Folks have gotten chemical burns from things that heat up and don't tell you how they're doing it. Keep it natural with Sizzle.  Read more about the shady dealings here if you don't believe me.
Silver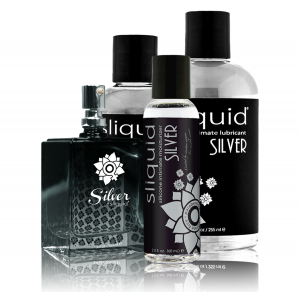 100% high grade silicone, Silver is hypoallergenic, flavorless and waterproof. I'm partial to water based formulas because of the easy clean up and the natural feel, but this is one of the better silicone lubes I've tried. It's not too thick, and one of the easier ones to clean off when playtime is over. Just know that all silicone has the possibility of staining your sheets and should never be used with a silicone toy! They even sell it in a fancy bottle if you want to dress up your night stand or hook up supplies. 
Silk.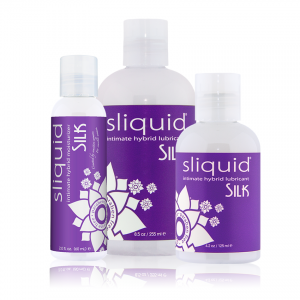 This hybrid is everything a great water-based lube should be: glycerin-free, paraben-free, and hypoallergenic, with 12% silicone for added longevity. The formula is light, creamy if you're looking for a thinner texture, or something that looks like cum. It's also easy to clean up compared to a full silicone lubricant. This is a great happy medium for folks who like silicone but want to use them with their silicone toys. 
Swirl Line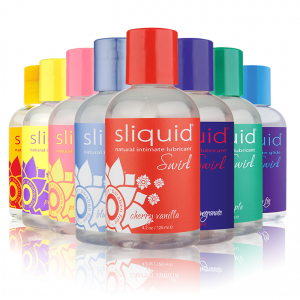 Most edible sexual products are loaded with sugar leaving you feeling sticky and with the potential for a yeast infection. Not the case with Sliquid Swirl! Not only are they flavorful, they are also safe to use inside the body. My favorite is blackberry fig because it feels like I got it at a fancy farmers market!
What's you favorite lube? Tell me in the comments.